By: Aimee van Uden
Early March 2020 I decided to ride "Het Fietserpad" on my own. After doing a few multi-day bikepacking trips with Gabrie, I wanted to experience a bikepacking trip all by myself. I choose a 620km trip from the most northern place in the Netherlands to the most southern place. As the route would be mostly on asphalt with long stretches of gravel, I decided to use my Canyon Gravelgrail for this trip with 35mm tyres. A four-day trip to come to myself and to learn it is ok to be alone and take yourself on a journey.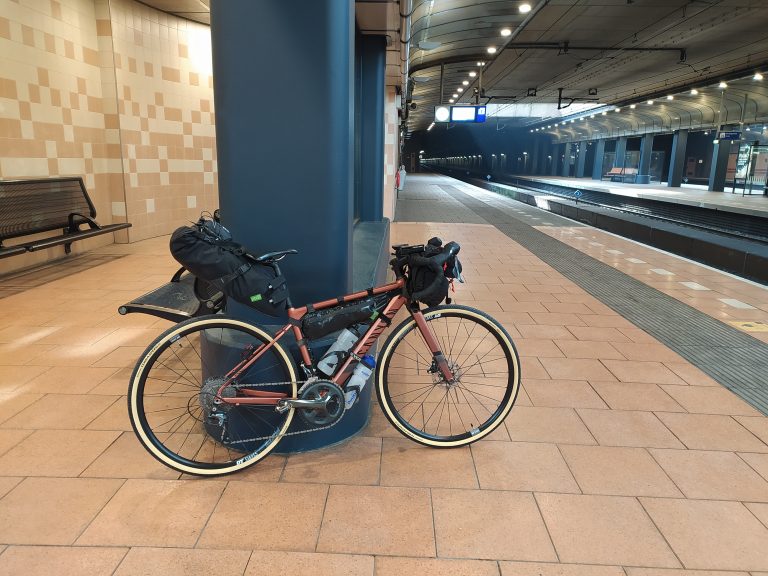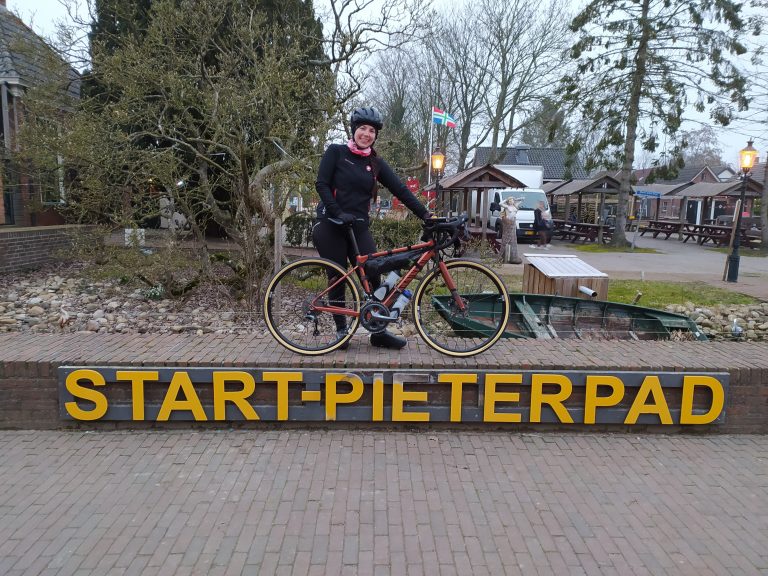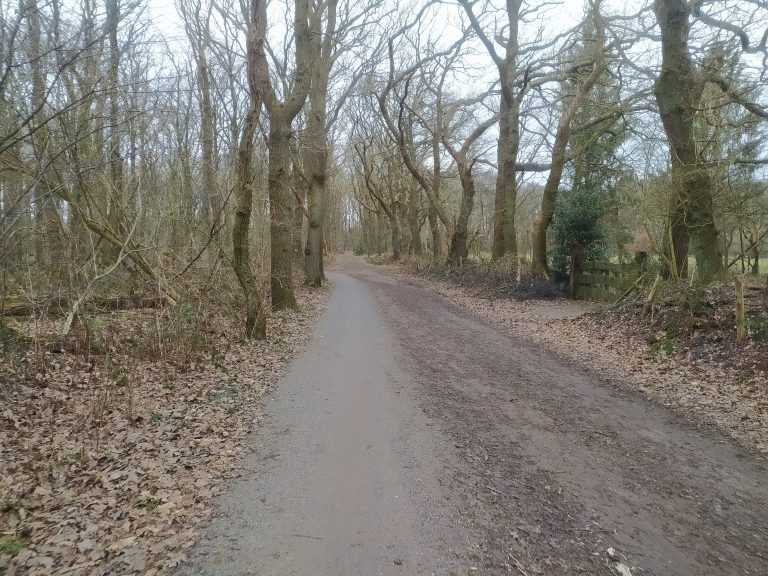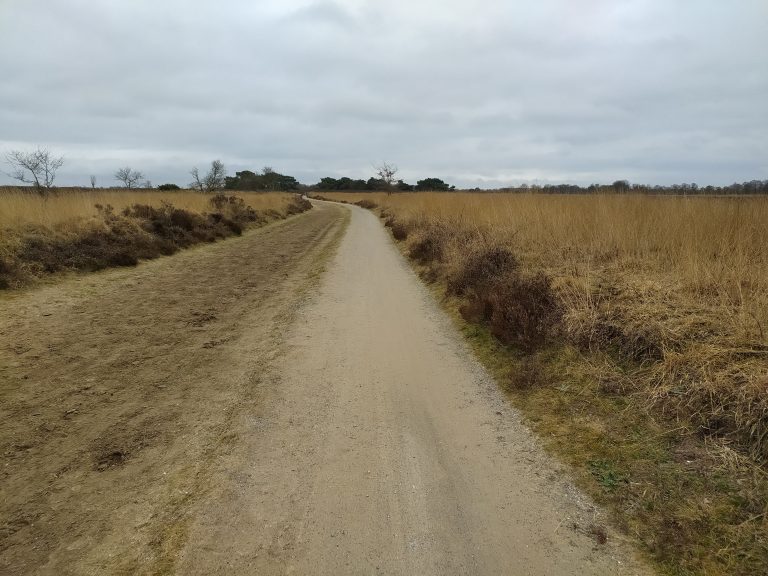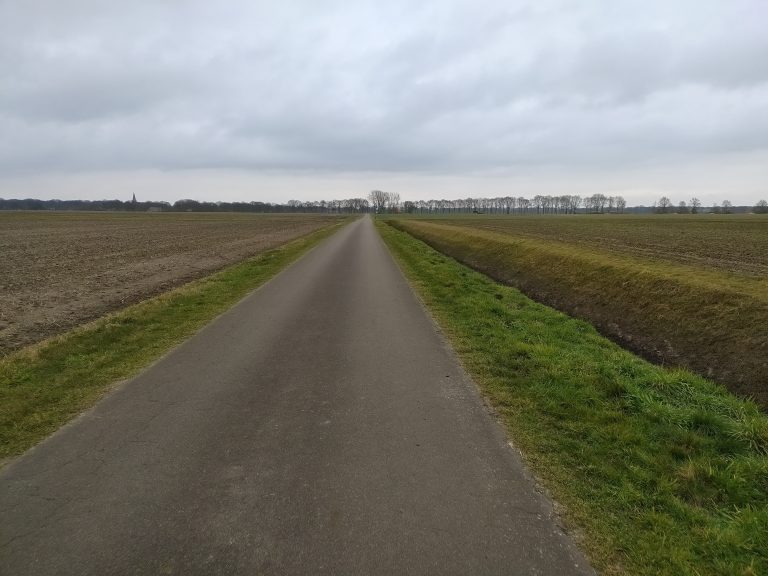 Upfront of the trip I booked some B&Bs which gave me the freedom to make as many stops down the route as I wanted, but to be honest I only stopped at places where they serve coffee to-go, since I didn't want to leave my bike all alone outside, while shopping in a supermarket. Luckily the B&Bs I booked, all offered breakfast and a lunch to go, so I had plenty of food with me.
The first trip was by train to Groningen. Packed my bike with saddle pack, frame bag and handlebar bag and rode to the train station where I would meet my bike friend. With him I rode the prologue of this trip. A nice 67km tour to Pieterburen and Eemsmond, the most northern place and the official start of my trip. A cold prologue with lots of wind from the north and the famous Dutch grey sky. Pushing hard on my paddles over the dikes I realized my trip had now really started.
After a cozy first night at my bike buddy and his wife, I left early next morning for my first solo ride from Bedum to Gramsbergen. A 127km beautiful ride with some great crispy gravel roads, especially around Balloërveld. Riding here, with a big smile on my face, I said to myself this was the best decision ever. Enjoying the beauty of the Netherlands and enjoying the fact that I'm doing this all on my own.
Drenthe is very beautiful, varied gravel and asphalt and many forests. I rode at a very relaxed pace and arrived well on time at my first B&B in Gramsbergen. The hostess spoiled me with sandwiches, drinks, chocolate, and fresh fruit. I slept wonderful and the next day I left for Emmerich am Rhein the next day, a 159km trip.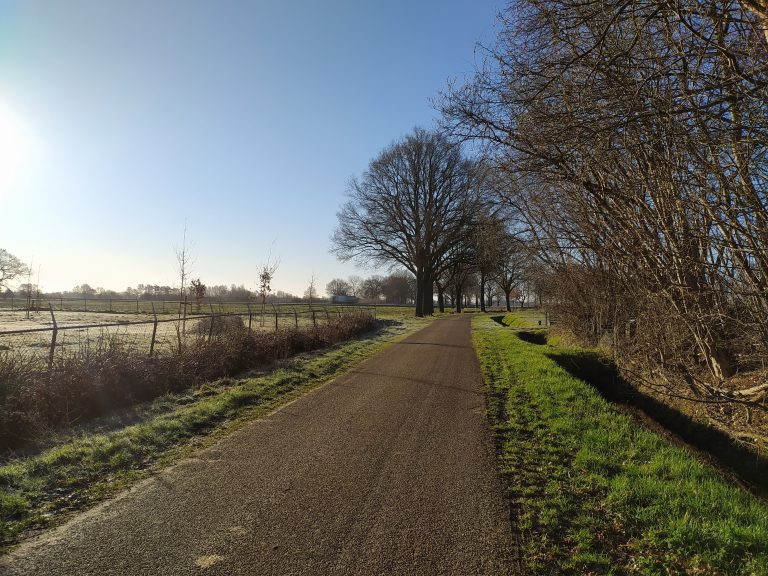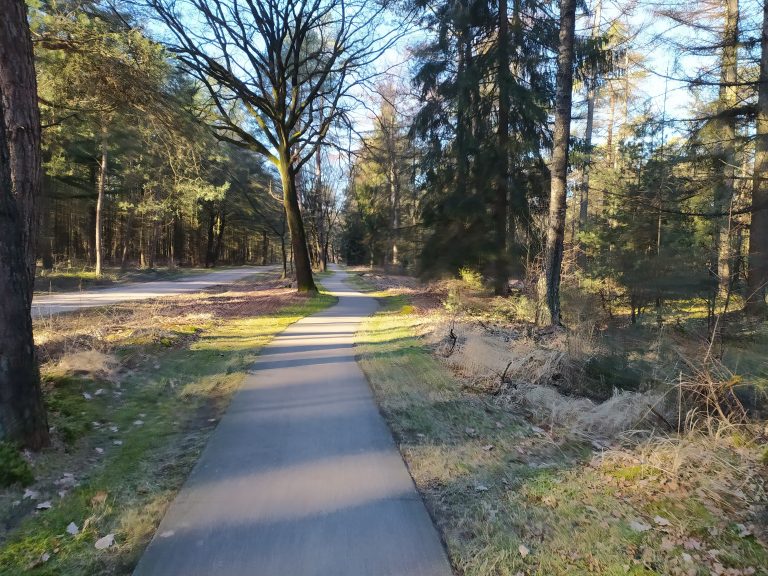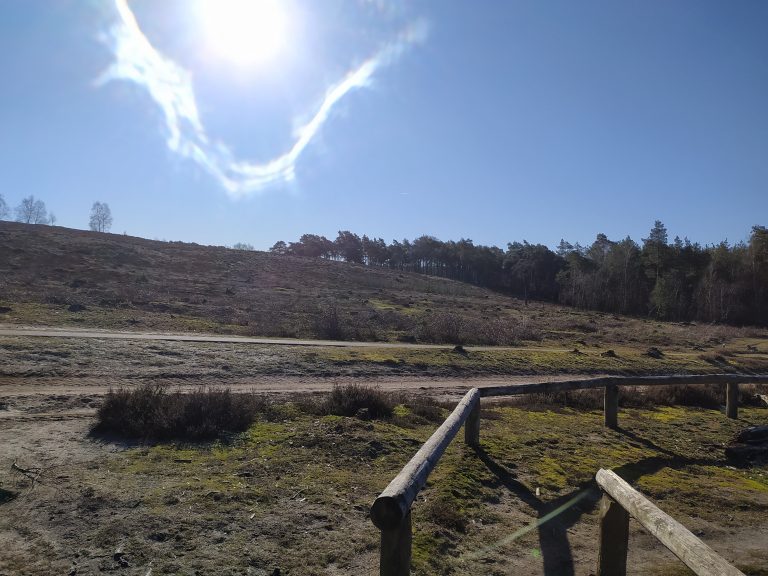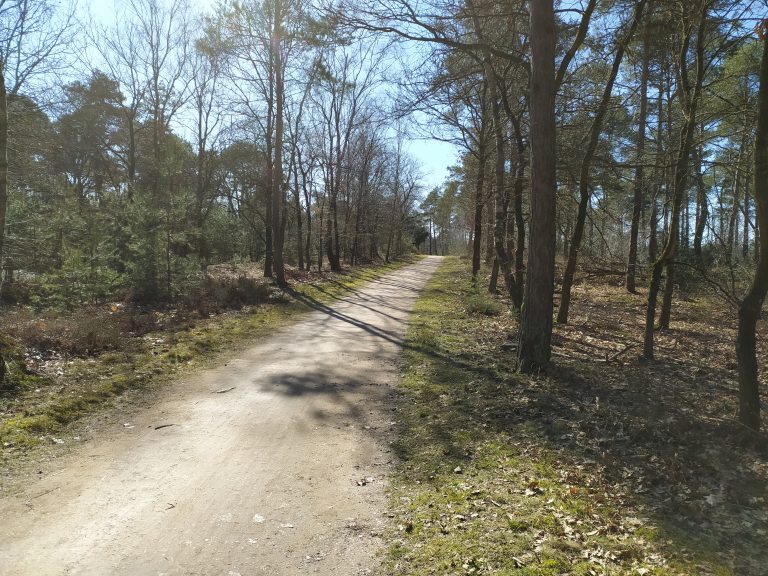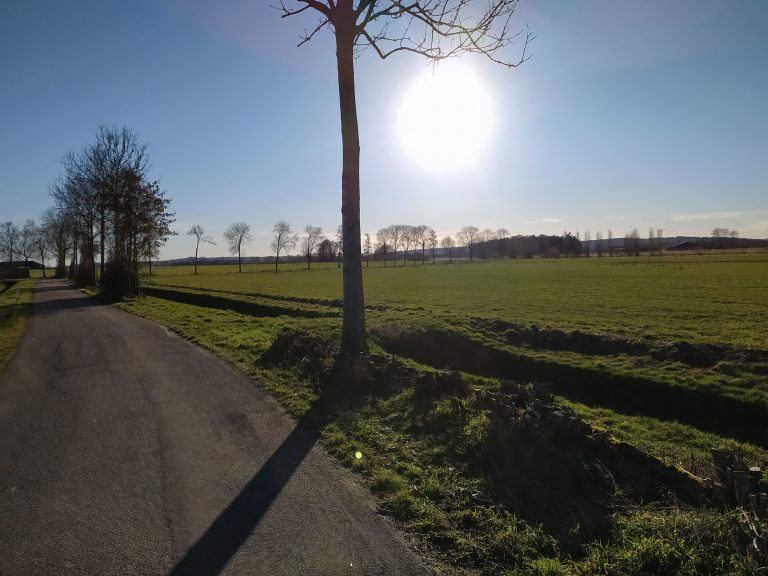 In the early morning I took off, resisting the freezing cold, I drove on in good spirits. A longer ride than yesterday but so beautiful with many forest paths and winding smooth running asphalt paths interspersed with gravel. On the way I came across a few escaped cows and I was amazed at how the farmers guided them back into the meadow. After a nice chat with the farmer I left, enjoying the rising sun and the beautiful surroundings of the "Sallandse heuvelrug". Veluwe eat your heart out, here is beautiful gravel, very easy to drive and beautiful winding forest paths. Also a very nice environment to plan a day trip!
On the way to Germany, I met a woman on a city, she also appeared to cycle a lot on a racing bike and mountain bike. That is so surprising about driving alone, even though you are riding alone, you meet nice friendly people everywhere who are very curious about all your bags and your destination.
Once past the Sallands Heuvelrug I mainly drove on endless asphalt roads, easy to cycle with a view of infinity. Earlier than expected I entered Emmerich am Rhein where I had booked a hotel. The most hospitable and friendliest hostess ever, I was also pampered here and had a good night's sleep.
The next morning I left for Montfort, it should be 165 km, but my navigation skills let me down for a while, making it 175 km. A beautiful route with a lot of gravel and driving along the water took me to Montfort where Gabrie would accompany me to finish together in Kuttingen the next day. A route with several pounds to cross the water. A nice break, but unfortunately also a time-consuming break. For the first pound I had to wait an hour and a half and later I took one too many.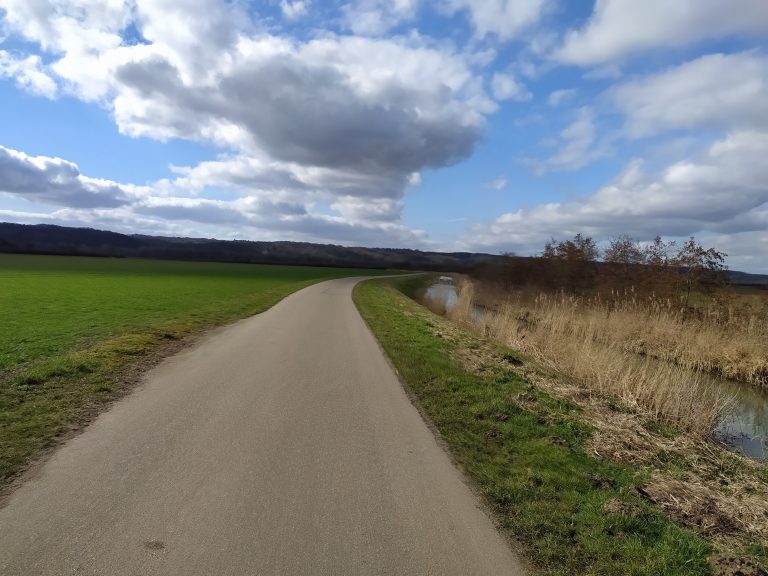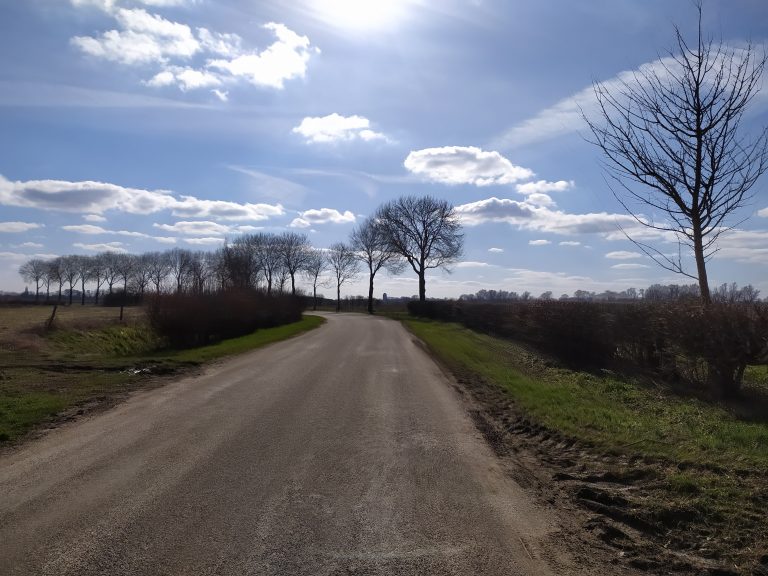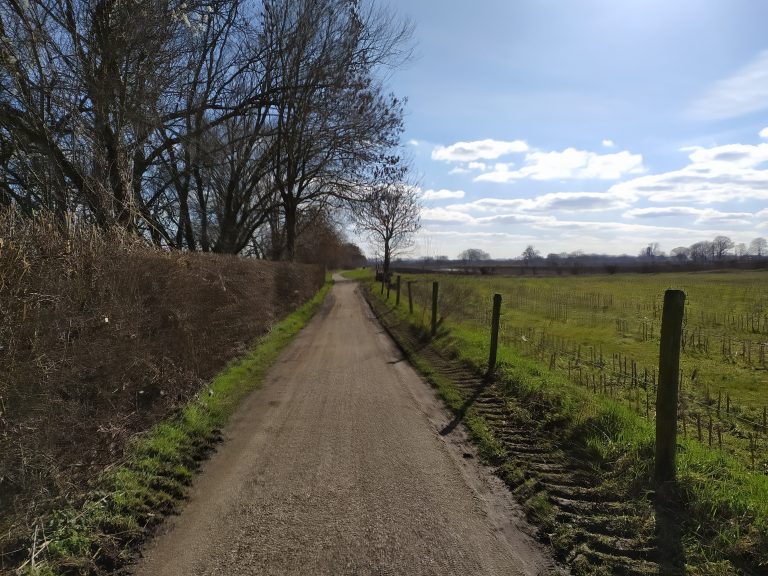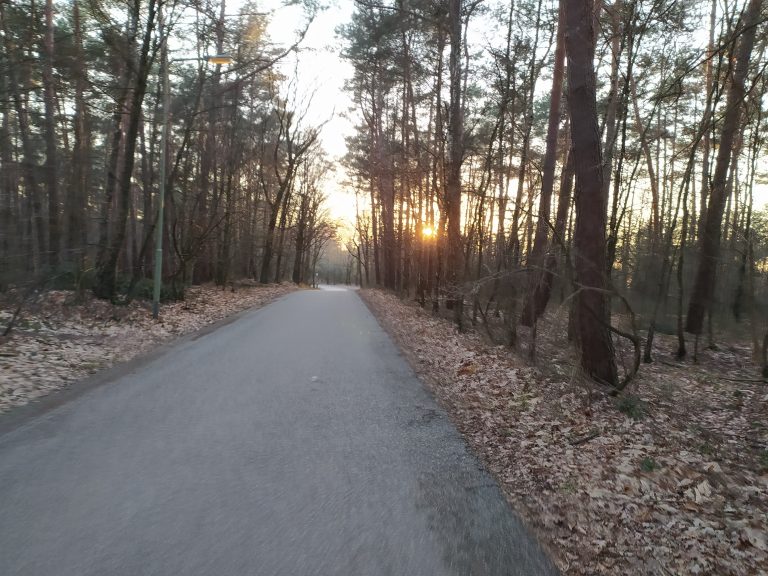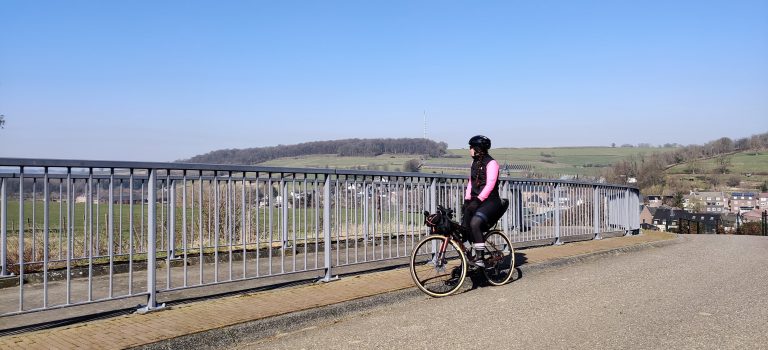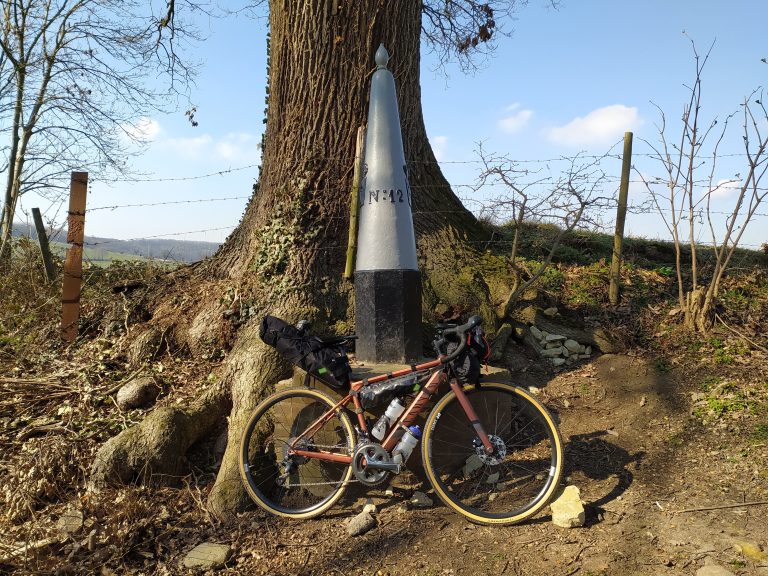 I learned the hard way that when your navigation indicates "off course" just turn around or look in komoot where you are. My navigation indicated a pound but meant a bridge and unfortunately I took the pound and then drove 5 km very stubbornly with "off course" in the display. Believe me, check why your navigation says "off course" this might save you a lot of time and extra kilometers. Because of my little adventures I ran out of time in the evening, and drove into the dark at Herkenbos through Luzenkamp. Now I am not super anxious, but driving in pitch dark alone in the forest and being a bit night blind is not my biggest hobby.
Fortunately Gabrie knew this and was waiting for me as a surprise in the middle of the forest to drive the last 15 km together to Montfort. Fortunately because I still had a lot of forest with single tracks to go in the dark and hardly saw anything. Makes it more adventurous but was glad I was not alone on this last part. Once we arrived in Montfort we found a nice B&B and together we started the next day on my last day, my last 73 km to touch the southernmost point and drive home again.
The next day had another cold and misty start and was also the only day with altimeters. After 3 big solo rides, it was quite nice to be able to get into the wheel and chat more along the way. I also really enjoyed sharing when I reached my end point. I am proud of myself that I covered a total of 620 KM, enjoyed it enormously and was glad that I did not have a puncture once. It was a nice easy ride to ride and it tastes like more. Before, I didn't think I was able to ride my bike all day long. I have not even listened to music I brought with me, listening to nature and the sound of my bike and the wind in my face was enough for me. I enjoyed it and if you still have doubts, don't! Go for it, it's insane!